Did you know that in 2016, more construction supervisors died on the job in the U.S. than in any year since 2003?
According to the Census of Fatal Occupational Injuries Summary 2016 released by the Bureau of Labor Statistics, 134 "first-line supervisors of construction trades and extraction workers" (the category in which construction supervisors are classified by the BLS) suffered workplace fatalities in 2016, marking a 9% increase from 2015. Moreover, the number of construction workers who lost their lives on the job jumped 6% from the prior year to 736 in 2016.
Given these alarming statistics, May couldn't get here fast enough. That's because May is Building Safety Month across the United States.
What is Building Safety Month?
The 38th annual Building Safety Month is presented by the International Code Council, which creates and maintains industry codes and standards that govern the construction industry in many U.S. municipalities, including Massachusetts. This month's campaign is also sponsored by the American Gas Association and ISO/Verisk Analytics.
The theme for Building Safety Month in 2018 is "Building Codes Save Lives." The ICC is aiming to highlight the importance of current building safety codes (and the code officials who oversee their compliance) in creating structures that are safe and sustainable.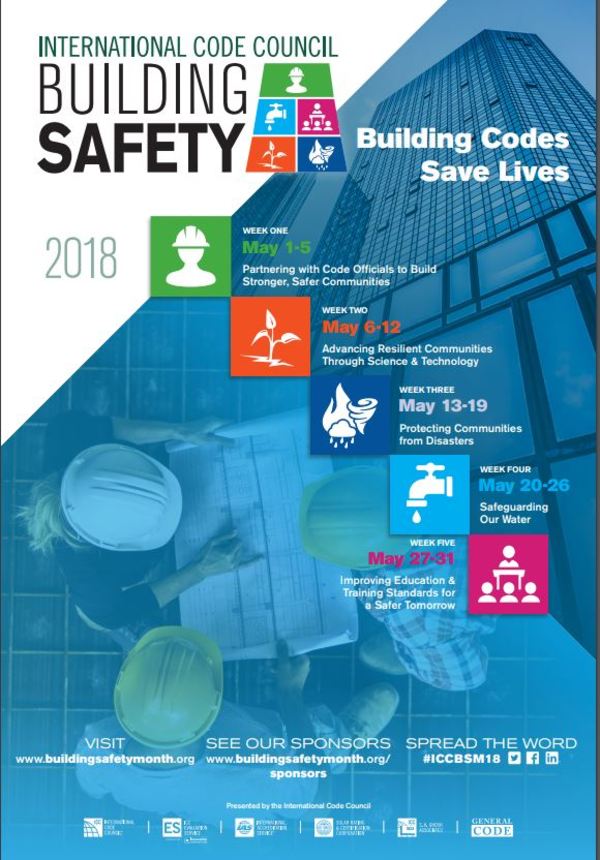 Highlighted Topics
In addition, the ICC has embraced different weekly themes for the five weeks of this year's Building Safety Month. They are:
Partnering with Code Officials to Build Stronger, Safer Communities (May 1-5): The goal is to promote the necessity and value of municipal building codes and their stringent enforcement. These codes not only help keep structure occupants safe against fires, structural collapse, and weather-related events, but they also help protect the investment of builders and the property owners they work with.
Advancing Resilient Communities Through Science & Technology (May 6-12): This week highlights the recent contributions to the construction industry made by science and technology. For example, drones are becoming more common on building sites; while robotics may one day be utilized for tasks like masonry, painting, or inspections in hazardous areas.
Protecting Communities from Disasters (May 13-19): In partnership with the Federal Alliance for Safe Homes, the ICC is stressing the need for families to have contingency plans in place for natural disasters. Measures include developing a family disaster plan, mapping out evacuation routes, and preparing to shelter in place.
Safeguarding Our Water (May 20-26): The idea is to emphasize the indispensability of clean water and code officials' role in protecting Americans from unsafe or unclean water. To that end, the ICC is partnering with the Residential Energy Services Network to develop a metric for builders to evaluate water usage efficiency in homes.
Improving Education & Training Standards for a Safer Tomorrow (May 27-31): This initiative reinforces the integral role of continuing education among workers in the building industry. Such education serves to boost productivity, improve skills, and reduce mistakes and accidents across the construction workforce.
Since construction supervisors are some of the most important gatekeepers when it comes to building safety, Building Safety Month is an opportunity for them to rededicate themselves to protecting the well-being of their workers, clients, and structure occupants. Let's hope that all CSL holders continue to insist on safe work areas, practice consistent code compliance, and embrace their continuing education opportunities this month and throughout the years to come.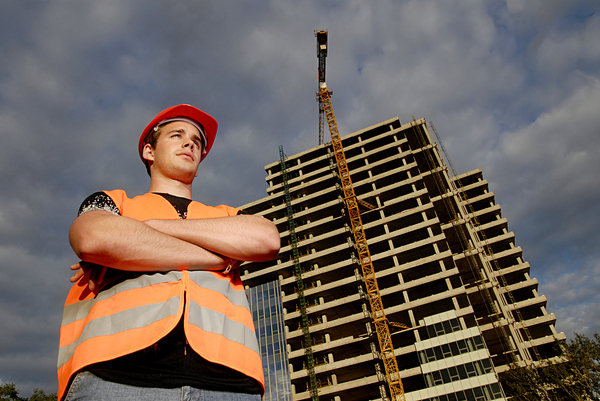 Time to fulfill your continuing education requirements? Take our Construction Supervisor License classes for free.