Electricity on demand is one of America's most monumental achievements, and it's also one of the modern comforts that is most taken for granted. What's equally overlooked – probably because it's largely invisible – is the destructive force that electricity can wield if it is mishandled.
One of the day-to-day scenarios, when the potential for danger is so great, occurs when building construction work is taking place near or around active power lines. It's especially acute when overhead cranes are lifting, moving, and transporting loads at heights which are equal to or greater than those of the poles which support the wires carrying live electricity.
Electrical Currents' Catastrophic Consequences
When someone suffers an electric shock, the appearance of trauma may be minuscule compared to the actual damage done to the human body. For starters, the shock traveling through the body can cause the muscles, tendons, and ligaments to contract so strongly that they can split or tear apart. This sudden contraction can also throw the heartbeat out of rhythm and stop the heart from pumping altogether, which can lead to a loss of consciousness or death.
Furthermore, the intense heat generated by high-voltage power lines is strong enough to cause severe internal burns of tissue, bone, and organs. Even without serious burns, electric shocks can damage nerves throughout the body (including the brain) – and much of this damage could be permanent.
Cranes + Power Lines = Disaster
Sadly, overhead crane incidents involving power lines are all too common. The Occupational Safety and Health Administration says that almost half of all overhead crane accidents occur when machinery comes into contact with a power source. Often, the boom or hoist line of a crane will touch a high-voltage power line.
When this happens, the person operating the crane usually gets electrocuted, but he isn't the only person in danger. Spotters, riggers, and anyone else in the vicinity of the contact can also be injured. OSHA says that some 200 people die each year in the U.S. from power line contact accidents, while 600 others sustain serious injuries.
Preventing Crane-Caused Electrical Accidents
Arguably the biggest cause of overhead crane power line accidents is a lack of planning on the job site. This happens when dangerous power lines aren't identified before crane operations, safety regulations aren't followed, and/or no one is named responsible for safety planning on a job site prior to the cranes' arrival.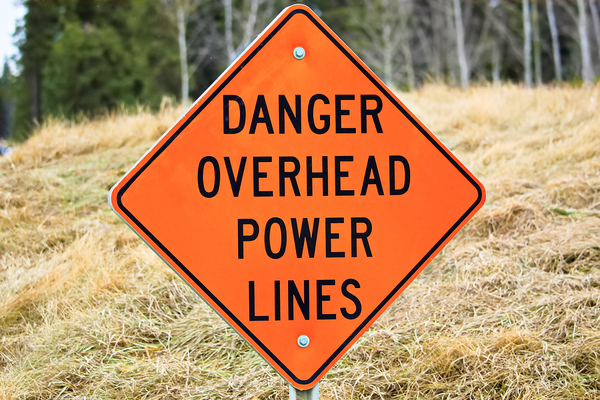 OSHA defines unsafe work areas around power lines, and all personnel should be notified and aware of these so-called "danger zones." Generally speaking, a ten-foot radius around a power line is considered a danger zone, and the area should be clearly marked on the ground with signs, barriers, or tape.
Other tips for hoisting operators on how to avoid these types of overhead crane accidents include:
Assume all power lines are live unless the utility company says otherwise.
Operate the crane at a safe speed around power lines.
Be wary of electric-powered remote-control systems which can channel electric current into your body if contact is made with a power source.
Ensure that no unauthorized personnel are within or near the boundaries of the danger zone while the crane is in operation.
Make sure that you are fully trained in avoiding danger zones and navigating sites where power lines are present.
Construction workers who hold a hoisting license are required to be completely proficient in how to operate cranes near power lines. This topic is often covered repeatedly during continuing education courses that workers must complete in order to renew their hoisting licenses.
Most importantly, crane operators should always be alert for and mindful of the potential for electrical hazards when operating an overhead crane. Because when it comes to high-voltage electricity sources, even the slightest mistake can wreak instant and calamitous havoc on the operator and his colleagues nearby.
Hoisting professionals: do you need to get your continuing education credits? Take our Hoisting License classes for free.