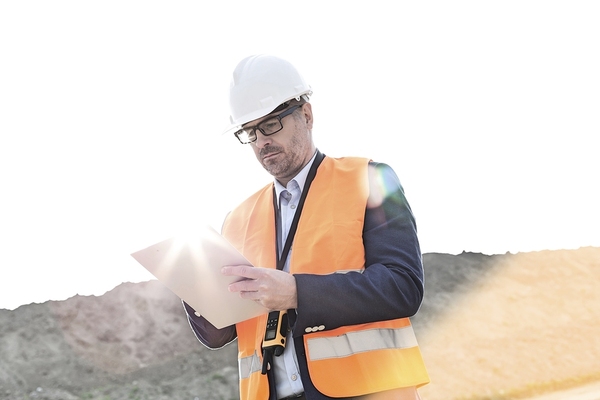 Permission is required for construction projects in the state of Massachusetts. In other words, only projects that have been legally permitted – as evidenced by the possession of the required government-issued permits – may be initiated, continued, or completed. Ensuring that all of the necessary permits have been obtained prior to construction is a primary responsibility of a licensed construction supervisor.1 In short,
You may not construct an unpermitted project.
You may not supervise construction of a permitted project unless you have obtained a Massachusetts Construction Supervisor License.
Qualifications for Application 
While the opportunity exists for nearly anyone to become a licensed construction supervisor, one must, nonetheless, be able to offer evidence of being qualified to supervise a construction project. That evidence is typically documentation of related work experience and/or education. More specifically, in order to apply for a license, a candidate "must have at least 3 years of building construction or design experience and must pass a written examination."2
The candidate must be able to submit evidence of full-time employment in the construction trade for three years within the past ten. The employment does NOT have to be continuous.
In lieu of three full years of on-the-job experience, the state allows for the following exceptions.
| | |
| --- | --- |
| Exception | Work Equivalent |
| Successful completion of a three- or four-year vocational school program in the field of building construction shall be deemed as satisfying of work experience. | Three years |
| Completion of a bachelor's degree from an accredited college or university. | One year |
| Successful completion of a bachelor's degree from an accredited college or university in architecture or science, engineering, or technology in a related field shall be deemed as satisfying two years' work experience | Two years |
| Active construction related military experience | Full-time experience |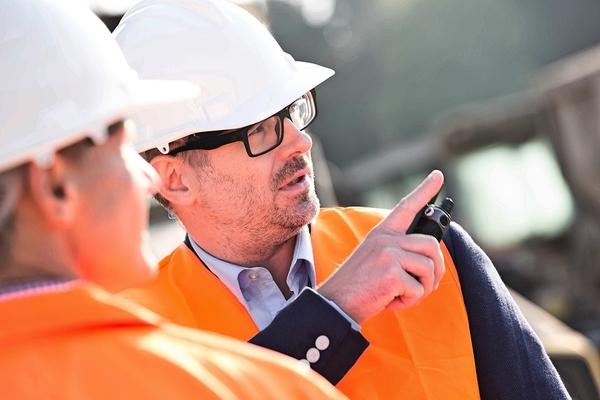 Types of Licenses
Massachusetts offers three basic categories of construction supervisor licenses.3
| | | |
| --- | --- | --- |
| Exam | Cost | Class Time |
| Unrestricted | $150 | 12 hours |
| Restricted | $100 | 10 hours |
| Specialty | Varies |   6 hours |
An Unrestricted License is required for any project that is 35,000 square feet or less.

Construction of projects that are greater than 35,000 square feet must be supervised by a professional engineer, architect, or their designee.

A Restricted License is limited to the supervision of the construction of one or two-family homes.
Specialty Licenses include

Home Improvement Contractor. This type does not usually require a license. However, registration is compulsory at a cost of $100.
Electrical Contractor. This type is broken into four different, progressive grades:

Journeyman: Requires three years of experience, 300 hours of classroom education, and costs $312.
System Technician: Requires 4,000 hours of work within the two years prior to application, 300 hours of classroom education, and a high school diploma or GED. The license costs $312.4
Master Electrician: Requires completion of one year of work as a licensed Journeyman. The cost of this license is $402.
System Contractor: Requires one year of experience as a licensed System Technician and 75 hours of classroom education.5

Plumbing Contractor. Requires three years of supervised apprenticeship and three hundred hours of classroom education. The cost of the exam is $117.
Abatement Contractor. Required for the removal of asbestos and lead. The cost for an asbestos abatement license is $2,050 per year, renewable annually. The license for lead abatement must also be renewed annually at a cost of $575. Please follow the links to find specific licensing requirements.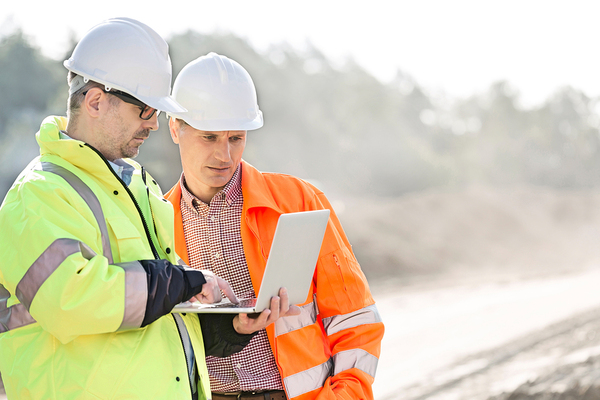 Application Process
The licensing application process is as easy as 1-2-3.
Determine if you qualify for your desired license. If not, ensure that you first complete the required work and classroom education hours.
Complete and submit an exam application form available at this link. Here is a reasonable facsimile of the first page of the application.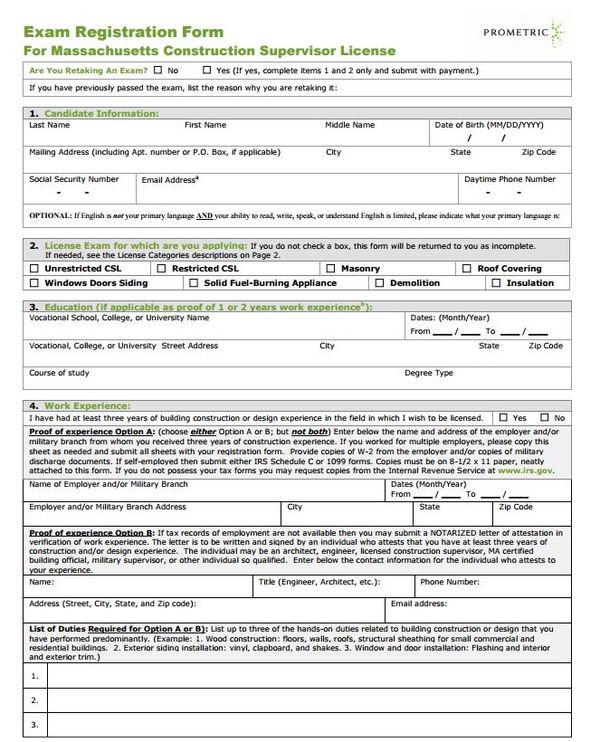 Testing
| | | |
| --- | --- | --- |
| Exam Type | Questions | Time Limit |
|  Unrestricted | 75 | 3 hours |
|  Restricted | 60 | 3 hours |
Questions are multiple choice and are based on federal and state regulations and building codes. Subjects covered include:
administrative responsibilities
safety
energy efficiency
site work and foundations
fire protection
framing and roofing
masonry
interior environment
The unrestricted exam includes additional questions covering accessibility and ventilation.
License Renewal
Massachusetts Construction Supervisor Licenses must be renewed every two years. The license renewal fee is $100. All license holders must complete the required number of hours of continuing education for each license type.
| | |
| --- | --- |
| Type | CEU Hours Required |
| Unrestricted | 12 |
| Restricted | 10 |
| Specialty | 6 |
The Massachusetts Contractors Academy offers approved courses to satisfy all ongoing educational needs for contractors in the state of Massachusetts. The best part is that you do not have to pay for your course until you pass it. To take advantage of these courses, go to the Massachusetts Contractors Academy today and sign up right now.
__________________________________
1 https://247mass.com/what-does-a-construction-project-supervisor-do/
2 http://www.mass.gov/eopss/consumer-prot-and-bus-lic/license-type/csl/about-construction-supervisor-license.html
3 http://www.mass.gov/eopss/consumer-prot-and-bus-lic/license-type/csl/about-construction-supervisor-license.html
4 http://www.mass.gov/ocabr/licensee/dpl-boards/el/regulations/rules-and-regs/237-cmr-1300.html#13.04
5 http://www.mass.gov/ocabr/licensee/dpl-boards/el/regulations/rules-and-regs/237-cmr-1300.html#13.02