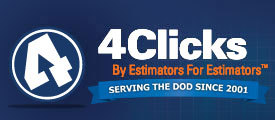 Estimation is an important aspect of the bidding process. It allows your company to pitch its best ideas for the best possible costs, helping your company to stand out from the competition – if it's a good estimation.
As the world gets increasingly more complicated with more things to keep track of by less people, organization and optimization are mandatory for every aspect of business, especially the estimate.
4Clicks provides advanced solutions for the construction industry, most notably with the e4Clicks software which streamlines the estimation process. e4Clicks may be "made by and for conractors," but it's good enough for the Department of Defense.
4Clicks' Peter Cholakis took a moment to tell us about the software and the estimation process in general, as well as share some advice on how to help your estimate stand out.
Can you introduce us to 4Clicks? Where are you based out of, and what inspired you to start the company initially?
The best way to describe 4Clicks is the following client quote from a Government Owner: "Your company provides an unparalleled level of service and commitment. We're having lots of great discussions between our office (base CE) and our 2 SABER contractors. My knowledge has at least doubled after sitting through today's class."
4Clicks provides premier construction cost estimating and project management software, training, and support for multiple construction delivery methods such as JOC, SABER, IDIQ, MATOC, SATOC, MACC, BOS, etc. And the best representation of RSMeans Cost Data available.
Michael Brown was inspired to start the company while working on one of the USAF's first SABER projects (SABER is the USAF's implementation of the Job Order Contracting construction delivery method) and thought to himself, "as a plumber with bad handwriting, there has to be a better way for me to estimate and manage all these construction projects."
We are based in Cheyenne, Wyoming; however, members of our team are located in Boston, Southern California, Dallas, and Colorado Springs.
Many of your employees have a background in cost estimation and construction. Can you talk a bit about how that experience plays into 4Clicks design and software?
Virtually all of managers have backgrounds in construction and life-cycle management of the built environment. We have served as engineers, cost estimators, project managers, and/or facility software/process management innovators. My background, for example, includes facility life-cycle planning and capital planning as a former member of VFA Inc.'s initial management team, and also experience as a Senior Consultant for RSMeans Company Inc. Michael Brown served in the USAF and also worked for one of the most successful contractors serving the federal government. Every one of us has been lucky to have the incredible experience of working with the largest facility portfolio owners and service provides across the public and private sector, as well as contractors and AEs of all sizes.
One of your most popular tools for contractors is the e4Clicks. Can you introduce us to that program a bit and tell us what makes it so popular with the contractors?
You really need to ask our clients! But from what I have heard, it's the ability to create a detailed, accurate RSMeans or IDIQ-based line item estimate in a fraction of the time it took them without 4Clicks, as well as the ability to reuse past estimates and share information with owners.
For example, there is no other product available today that builds out individual line item modifiers directly under the parent line time. Our RSMeans dataset holds well over 400,000 line items versus the 80,000+ available from any other source, including RSMeans. These modifiers provide visibility into the true cost for renovation, repair, and maintenance work, which make up 30% of any estimate on average; and they are critical to owners, contractors, AEs, and oversight Groups. Having this information, and the ability to rapidly find and use it, is critical.
That said, we are about to formally introduce Ceasel, our cloud estimating program. Ceasel is truly unique. It has one patent and two more patents pending. It is in use by West Point as we speak for their current JOC. Just FYI, West Point had the first JOC in the U.S.
Can you give an example of where 400,000 RSMeans line items would be called for? And how can advanced searching be integral to keeping a project, or many projects, organized for maximum efficiency?
Advanced search engine capability is key to locating exactly what component, labor, and material is required for a job. Let's look at putting new carpet in an office. The typically available RSMeans Cost Data has the cost for a roll of carpet. Our database has the line item modifiers required for the additional costs of not using a full roll of carpet, working an area under a certain size, using borders and patterns (more labor and waste), etc. Errors and omissions are mitigated, and all required items are presented to the estimator.
e4Clicks also can produce updated estimates with localized cost information. Where do you look for that kind of information, and what kind of leg up does it give on the competition? How much time and money might a solo contractor or company save by having this information available in one place and automatically available?
Using the RSMeans Construction Cost Index, CCI, which is available at the ZIP code level, line item costs can be localized. Users can apply a general average CCI, or even apply separate CCI factors for labor, equipment, and materials. As we all know, price can fluctuate based upon demand, materials shortages, and other global/local events. We provide updated CCIs five times a year to our clients, which results in a better reflection actual costs. The ability to re-price estimates saves hours, days, or weeks of man-hours based upon the size of the estimate.
You've also talked about how e4Clicks gives a competitive advantage against other contractors bidding on the same project. How do you achieve this? And how important is it to be as competitive as possible in today's business climate?
4Clicks provides several competitive advantages. 4Clicks users can create a more detailed and more transparent RSMeans line item estimate and do so faster. With our reporting capabilities and ability to directly populate government forms, owners can better understand estimates created in 4Clicks software.
e4Clicks features Job Order Contracting, which you wrote a blue paper on recently. Can you talk a bit about what JOC is and the part it's playing in staying competitive in today's contracting world?
JOC is critical to improving construction productivity with respect to renovation, repair, sustainability, and maintenance projects. It is a collaborative construction delivery method that is proven to enable owners and contractors to complete more construction projects on-time and on-budget. It is a form of integrated project delivery.
As most of us know, the construction sector has a record of poor productivity vs. all other sectors. This is largely due to design-bid-build and low bid practices that pit owners against contractors and AEs. Furthermore, JOC provides greater cost visibility. Most owners currently have little ability to measure and monitor costs. You simply can't manage what you don't measure.
You've got a section for Client Success Stories on your website. What have been a few of your favorite testimonials, and why?
My favorites reference contractors that have grown their businesses, owners that have completed more jobs on-time and on-budget that ever before, and all users who have improved their abilities. I also love it when owner and contractor relationships thrive in an atmosphere of mutual respect and trust! At the end of the day, we exist to serve our clients; so it's great to see that we are doing just that! The fact that we are providing true value to owners, contractors, and AEs is very satisfying, and we can only hope to continue to do so.
"Without a doubt, e4Clicks is the most capable estimating program on the market. It allows the user(s) maximum functionality for a diverse set of contract/project types in every discipline. While there is work involved in learning how to use the program, it's quickly revealed that doing so opens up a level of functionality unmatched by competing programs. The ability to tap previous estimates and historical data has a compounding effect in the efficiency and value of the software. Quite simply, the more you use it, the more value you discover." – Ryan Wiser, Director of Construction at KATMAI
"This company produces one of the best tools for Air Force Civil Engineering construction and maintenance personnel use. It's fast, efficient, accurate and easy to use. It keeps you on pace with funding and project changes with little effort!" – USAF, Owner
"This course should be required for all General Contracting estimators and electrical subcontract estimators." – Rick Garcia, Sr Estimator/LEED Green Associate, Herman Construction Group, Inc
"e4Clicks is a must have for federal work, especially SABER and JOC contracts." – Victor Maga, President/CEO at Spartan Construction Services, Inc.
For more updates from 4Clicks, like them on Facebook, follow them on Google+ and Twitter, connect with them on LinkedIn, and subscribe to their YouTube Channel.